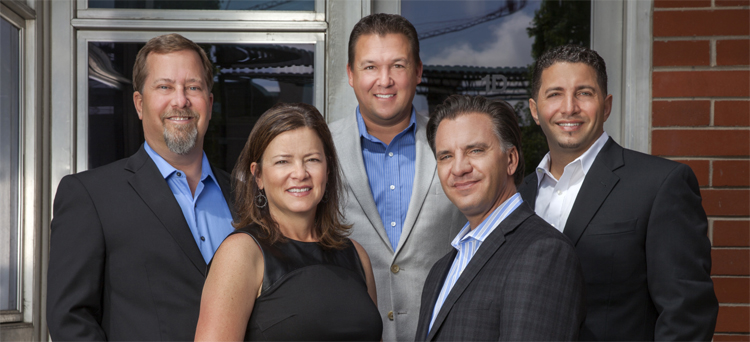 The executive board for the Denver Biz Tech Expo is made up of a wide range in expertise and experience.  Led by President David DeCamillis we came together to start an event to benefit the customers of our own companies but we found a demand in Denver for a lot more.  The event quickly evolved into the dynamic show we have today.  Featuring global and local sponsors, plus federal and local government agencies, we can give attendees a wide variety of information and demonstrations to help them understand how to take their businesses to new levels.
CIO Jim Easterly
Jim is currently the Director of IT for HostWorks, Inc. He has 20 years of experience in the IT and Computer services industry and has experience in a wide range of software and hardware platforms. He began his career installing player tracking and accounting networks in casinos nationwide just as gambling was becoming legalized across the country. Other early positions included network engineer, customer service technician and technical support. In 1999, just in time for the Y2K incident, Jim started as the Director of IT at HostWorks, Inc. HostWorks is one of the leading Managed Hosting and Web Site Development firms in Denver with a customer base ranging in size from sole-proprietor operations to Fortune 50 companies needing multi-thousand page sites. HostWorks offers a full suite of services for everything needed to have a successful web presence. In his spare time Jim loves to golf, ride his motorcycle and coach his daughters softball team.
Technology Officer for the Denver Technology Partners
CFO Michael Gudenkauf
Michael is the President/Owner of Rocky Mountain Microfilm and Imaging (RMMI). RMMI is a Family owned and operated scanning service bureau that has been serving Colorado and the surrounding states for the past 18 years. RMMI helps their customers with all levels of Electronic Content Management and their scanning needs. Michael is a Graduate from Metropolitan State University of Denver with a bachelor's degree in Business Management. Out of College, Michael worked for Hyland Hills Park and Recreation District as a Facility Manager. He helped design and implement a 4 acre facility expansion and opened and managed an indoor sports facility.
Finance Officer for the Denver Technology Partners
Advisory Committee for Northwest United Federal Credit Union
COO Nidal Allis
Nidal is currently the President and CEO for TechnoRescue. He served 9 ½ years in the U.S. Air Force as a Communications, Computer System operator and administrator to large groups of customers and agencies for the Department of Defense and the Intelligence community. During his service, he earned two college degrees, one in Managed Informational Systems (MIS) and another an Informational Systems Technology (IST). Honorably discharged from the Air Force in October of 2004, Nidal was immediately employed by Science Application International Corporation (SAIC) as the Public Key Infrastructure Senior System Administrator and Deputy Team Lead, which was contracted by an Intelligence Agency in Washington DC. While employed at SAIC, he also worked at The Pennington Institute for Health and Wellness as Vice President. In 2006 Nidal founded Techno Rescue, a Veteran-Owned, Green technology company specializing in Computer Electronics Recycling and Data Destruction.
Board of Directors for the Denver Technology Partners
Board of Directors for Metro-Denver Crime Stoppers
World Trade Center Denver
Denver Metro Chamber of Commerce
Aurora Chamber of Commerce
Defense Council
Hispanic Chamber of Commerce
Show Director Amy DeCamillis
Amy started her career in the hospitality business, working as a Sales Manager for the Sheraton Chicago Hotel and Towers handling the Corporate Market where she won Sales Manager of the Quarter, 2 quarters. She moved (back) to Colorado to create and manage the catering department for Bolder Concepts, a restaurant management company with 14 restaurants in the group at its peak. She was promoted to Director of Operations and eventually had ownership in several of the restaurants. While with Bolder Concepts she helped implement and facilitate a store level reporting system where each restaurant managed its own P & L's. An entrepreneur at heart, Amy left the restaurant business to pursue other interests. In 2005, she bought Bella Essentials, which developed and manufactured Bella Mama: A full line of all natural skin care products made specifically for pregnancy and sold in retailers around the country. While running Bella Mama, Amy realized that there was not a trade show that marketed directly to the maternity industry and so in 2006 she and four partners launched the MOM2B Trade Show. With an average of 150 booths marketing directly to the trade industry, the show was held twice a year in Los Angeles and Las Vegas. After selling Bella Mama and stopping MOM2B Trade Show, Amy started her consulting business, her favorite client being the Denver Biz Tech Expo – running all aspects of the operation. Happily married for 11 years, four kiddos. I enjoy being busy! I love to hike, walk, travel, but mostly I like hanging out with my family.
President-CEO David DeCamillis
David is currenty the Vice President of Sales and Marketing for Platte River Networks. He has worked in consulting and events in a wide range of industries. Starting in the late 1980s, he worked as a syndicate manager and consultant in private equity funding. After 12 years, David transitioned into event promotion, working as an overseas promoter and producer in the entertainment industry with MTV Asia. He will be honored by Colorado Biz Magazine in the July 2014 issue as one of the Top 10 Sales People in Colorado. In 2008, David started his tenure as Head of Business Development with Platte River Networks (PRN), an award-winning, Denver-based IT firm that specializes in infrastructure management and cloud services for companies across every industry. Over the past 11 years, PRN has grown to become a leading IT Cloud services provider, both in Denver and nationally. PRN has recently earned national distinction as recipients of the following honors: the 2011 & 2012 Ingram Micro Cloud Partner of the Year Awards for the USA Western Region; the Denver Metro Chamber of Commerce 2012 Small Business of the Year Award; the "2012 Top 10 Places to Work in Denver" by the Denver Business Journal; the Channel Partners 2013 360 Award; and the 2013 CRN NextGen 250 Award.
President of the Denver Technology Partners
Ingram Micro Cloud Services National Advisory Council
Symantec SMB National Advisory Council